PROFESSIONAL GRADE TREEHOUSE PARTS & MATERIALS
Build a Treehouse in your backyard! Our treehouse kits make it easier than you think!
Now you can buy the same high-quality products that the professionals use to build custom tree houses that last. With over 5000 treehouses built worldwide, our comprehensive plans, hardware, and tools proudly made in the USA provide everything you need to make it happen.
RATED THE STRONGEST TREEHOUSE ATTACHMENT BOLTS (TABS) IN THE INDUSTRY
Treehouse Plans
Our Treehouse Plans are designed by professional builders to help ensure the safety of both the tree and your family.
Treehouse Kits
Our comprehensive Treehouse Kits make it easy to build anything - from a backyard treehouse for kids, treetop man-caves and she-sheds, to zip lines and rope bridges
Treehouse Hardware
Proudly made in the USA, Treehouse Hardware offers premium quality hardware for all your treehouse building needs. Our Treehouse Attachment Bolts (TABs) are rated the strongest in the industry.
TABS YOU CAN TRUST.
RATED THE STRONGEST TREEHOUSE ATTACHMENT BOLTS (TABS) IN THE INDUSTRY
Treehouse Accessories
Make your backyard an adventure with Treehouse Accessories, offering a wide range of fun and functional add-ons to enhance your treehouse.
Let Us Help Turn Your Backyard Into An Experience
With over 15 years of experience and 5,000 treehouses built, Treehouse Supplies is the industry-leading supplier helping you build your own custom paradise.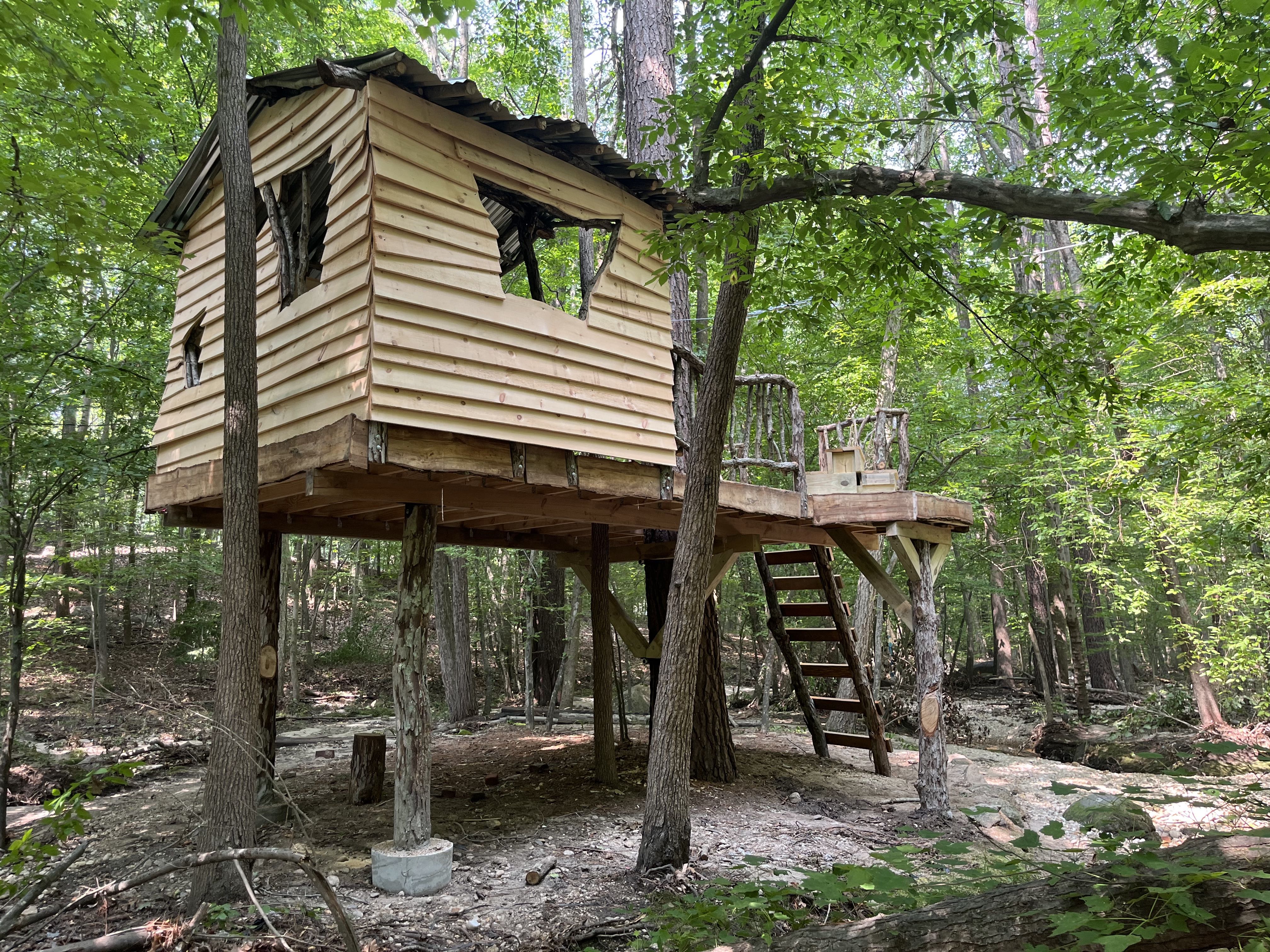 We are proud to display the work of our DIY customers who use our hardware on their treehouses. It gives us great joy to see people building more intelligent treehouses that are less damaging to trees than other conventional methods.
★★★★★

Extremely helpful & knowledgeable. Explained everything that I would need to build the treehouse properly. Great support and experience!

Christopher Cortazzo

Google Review
★★★★★

Awesome personalized customer service, fast response times and awesome assortment of the right products to support completing your project safely. Just a great company!!

Jay Perkoski

Facebook Review
★★★★★

They are really helpful in many different ways. They were polite even when I had asked so many questions, they didn't get frustrated.

Abby Brunelli

Google Review
★★★★★

Super responsive and supportive! Their prices really are reasonable compared to other options I've researched.

Luke Anderson

Google Review
★★★★★

The Treehouse Supplies team was awesome to work with. I ordered TAB's and windows from them. They were quick with shipping, and always available to answer my questions.

Tim Palardy

Google Review
★★★★★

Great customer service and always available. Would definitely recommend to anyone. The product itself is also fantastic.

Kyle Gonzales

Facebook Review
★★★★★

I was able to get what I needed after a very knowledgeable and succinct consultation. After ordering a mix of parts and tools that ultimately didn't match and they were able to catch it and get it fixed for me.

David Leras

Google Review
★★★★★

These guys have been great to work with, whether it's helping me with plans and materials lists to getting me stuff on time with no hassle. I definitely recommend them.

Andrew Brodie

Google Review
★★★★★

Great customer service. Quick to reply and willing to work with you.

Jason Nestoryak

Google Review
The World's Best Treehouses
Tree Top Builders has built over 100 tree houses; our best-in-class building practices have matured and our construction methods are even safer, better and longer lasting.
TREE TOP BUILDERS
Tree Top Builders has been safely putting people in the tree houses of their dreams since 2003. Our first project is still standing, in terrific condition and the host tree is doing great!
Where Nature Meets Adventure
Treehouse World
Philadelphia's Top Outdoor Treehouse Adventure Park! Our Treehouse Adventure Park is massive in scale and has amazing treehouses to explore and dozens of other platforms and activities in the trees.